Donegan Eyeglass Loupe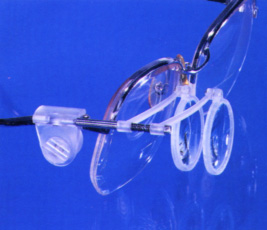 Eyeglass loupe affixes to the glasses at the temple to provide magnification that flips out of the way when not in use.
The ultra light Eyeglass Loupe is designed for maximum comfort and utility. The lenses are high quality optical grade acrylic from precision ground and polished molds. The lenses are lightweight and very durable. The lens pivots out of the way for normal viewing through your glasses and aligns easily when magnification is needed.
Eyeglass loupes are available in single or double lens combinations with a variety of focal lengths and powers. See the chart below. Made in the USA.
One feature we love about these magnifiers is the ease with which they attach to your glasses. Theywill fit eyeglass frames from a 1/16 inch to a 1/4 inch temple width. This means the Eyeglass Loupe works fine with today's fashionable wire rim glasses as long as the temples are 1/16th inch or wider. The magnifier achieves this ease of fit through the use of changeable cams, pictured above right. The cams also permit easy conversion from right temple mounting to left temple mounting.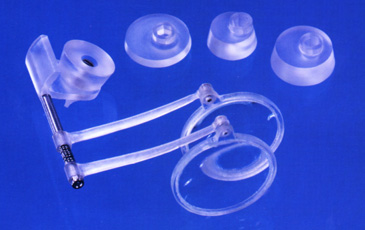 | | | | | | |
| --- | --- | --- | --- | --- | --- |
| ELD-2-1 | 5X-10X-15X | 2in-1in | 24mm-15mm | $25.25 | |
| ELD-2.5-1 | 4X-10X-14X | 2.5in - 1in | 24mm-15mm | $25.25 | |
| ELD-2-1.5 | 5X-7X-12X | 2in - 1.5in | 24mm-24mm | $25.25 | |
| ELD-2.5-1.5 | 4X-7X-11X | 2.5in-1.5in | 24mm-24mm | 25.25 | |
| ELD-3.5-1.5 | 3X-7X-10X | 3.5in-1.5in | 24mm-24mm | $25.25 | |
| ELD-3.5-2 | 3X-5X-8X | 3.5in-2in | 24mm-24mm | $25.25 | |