Optivisor Lens Plates
Optivisor lens plates are easily interchangeable. So if you wish to work at a different focal length or a different magnification, simply buy an additional lens. Optivisor lenses are the finest crown glass, ground and polished to precision opthalmic standards. Glass lenses have a blue frame.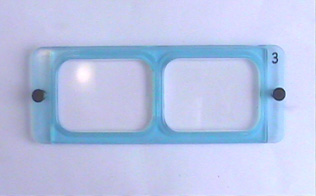 OptivisorLX acrylic lenses are also available
, and they will fit any Optivisor, as well. The acrylic is molded to optical standards. Acrylic lenses have a clear frame.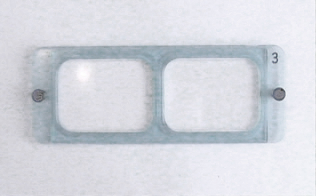 | | | | | | | |
| --- | --- | --- | --- | --- | --- | --- |
| AL-13 | 14 | 355 | 1 3/4X | $12.40 | | |
| AL-14 | 10 | 254 | 2X | $12.40 | | |
| AL-15 | 8 | 203 | 2 1/2X | $12.40 | | |
| AL-17 | 6 | 152 | 2 3/4X | $12.40 | | |