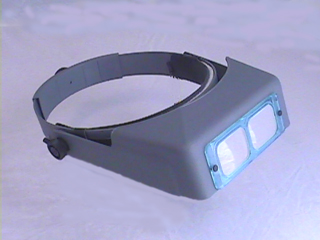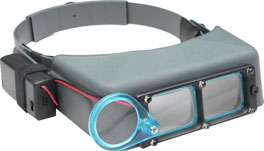 Optivisor by Donegan
Visor magnifier with optical glass lenses ground to opthalmic standards.
Lenses are the finest clear crown glass, mounted in a blue lens frame.
Great magnification; wide field of view.
The visor is made of lightweight, durable, impact resistant materials.
The continuous headband is fully adjustable to fit any size, quickly and easily.
Adjustable pivot knobs hold visor in any position for easy flip-up viewing.
Wear the Optivisor by itself or over eyeglasses.
Special headband materials make it so comfortable you can wear it for hours.
Interchangeable lens plates are available for various applications.
An Optiloupe (sold separately) easily attaches to either eye providing an addtional 2.5X magnification
A light source (sold separately) mounts on the visor.
The fantastic Quasar Lighting System (sold separately) can encircle the lens plate with LED lights.
Choose your magnifier for the working distance you require
The greater the magnification, the closer the working distance. Order an Optivisor with a comfortable working distance, and order an Optiloupe that you can occasionally flip down to view objects at a higher magnification but at a closer focal distance. If you ever decide that you need your work to be at a different focal distance, you can always order a different lens plate, which affixes easily.
DA-2
20
508
1 1/2X
Magnifies- 1.5X at 20 in
$35.52
DA-3
14
355
1 3/4X
Magnifies - 1.75X at 14 In
$35.52
DA-4
10
254
2X
Magnifies - 2X at 10 In

$33.04

DA-5
8
203
2 1/2X
Magnifies - 2.5X at 8 In

$33.04

DA-7
6
152
2 3/4X
Magnifies - 2.75X at 6 In
$38.48
DA-10
4
101
3 1/2X
Magnifies -3.5X at 4 in
$39.03
DA S1
All Lenses & Waterproof Case and Xenon Light
Optivisor Complete Set
$216.04
LP-1
2.5X
Optiloupe (Crown Glass Lens)
$8.86
6010
Lens Not Included
Quasar LED
Lighting System
$21.95
DelSol
Optivisor & all Lenses & LED Light
with case
Optivisor Del Sol
$216.04
Del Sol without Case
Optivisor & all Lenses & LED Light without Case
Optivisor Del Sol
$183.31
Pictured Left -
Optivisor
Pictured Below -
Optivisor
with
Quasar LS
&
Optiloupe
(All sold separately)
Optivisor is available with other lens materials.

This magnifier is also available with molded opthalmic acrylic lenses. It is the Optivisor LX Series. Same comfortable headband. Lower price because the lenses are not ophthalmic glass and do not have the scratch resistance of glass. The acrylic lenses are not mounted in the blue lens frame characteristic of glass Optivisor lenses.
Optivisor Complete Set
includes visor, 6 crown glass interchangeable opthalmic lens plates ( LP-2, LP-3, LP-4, LP-5, LP-7, LP-10 ), LP-1 flip-up monocular lens, LT-06 visor light with xenon bulb and a waterproof, foam rubber padded, locking plastic carrying case engineered by Donegan Optical to cushion and protect the magnifier.